Préférences en matière de cookies
Ce site web utilise des cookies, qui sont nécessaires pour le fonctionnement technique du site web et qui sont toujours paramétrés. Les autres cookies, qui sont destinés à accroître le confort d'utilisation de ce site web, à des fins de marketing direct ou pour faciliter l'interaction avec d'autres sites web et réseaux sociaux, ne sont définis qu'avec votre consentement.
Ces cookies sont nécessaires aux fonctions de base de la boutique.
Autoriser tous les cookies
Mise en cache spécifique au client
Préférences en matière de cookies
Ces cookies sont utilisés pour rendre l'expérience d'achat encore plus attrayante, par exemple pour la reconnaissance du visiteur.
Appareil de suivi utilisé
Ashampoo Photo Optimizer 7
19,95 € *
39,99 € *
(50,11% sauvegardé)
inkl. MwSt. plus frais d'expédition
Numéro d'article :

241821016

N ° de fabricant:

4250949205295

Durée:

Durée de vie

Langue(s):

Toutes les langues

Zones Pays:

À l'échelle mondiale
Support de données vers votre logiciel
Ashampoo® Photo Optimizer 7 Brilliant photos are just a click away! Optimizes images...
plus
Informations sur les produits "Ashampoo Photo Optimizer 7"
Ashampoo® Photo Optimizer 7
Brilliant photos are just a click away!
Optimizes images automatically like no other program
The secret of the new Photo Optimizer lies in its fantastic image optimization. For this purpose, the image is analysed exactly to find possible weak points. Whether pale colors, wrong exposure or inappropriate color temperature - the algorithm of Photo Optimizer finds them all! For the first time ever, white balance and contrast spread are done automatically! After analysis, Photo Optimizer recreates your images - bright, vibrant, and just the way a good photo should be. Let us convince you and give your pictures a new shine!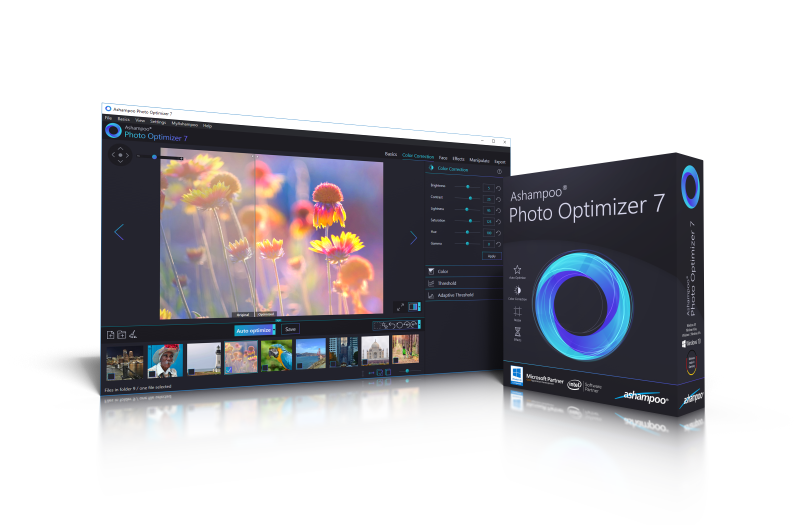 Developed together with the customers
The new Photo Optimizer is not just any photo editing program, 5,000 people have worked on it! The goal: To create a program that automatically makes pictures better - however they were taken. For this purpose, numerous picture variants were made available for selection, which were evaluated by the customers. Only what they found to be good was adopted by the team. Based on these results, the automatic optimization was further developed, because 5,000 customers cannot be wrong!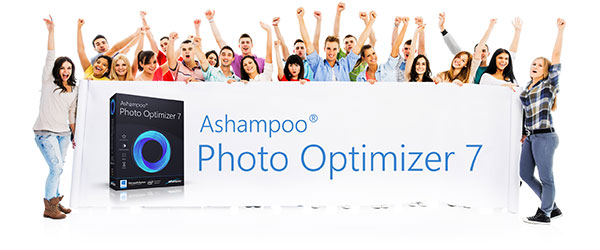 With one click to a good photo
The automatic image optimization does not waste its time. Select one or more photos, click on "Auto Optimize" and Photo Optimizer will go to work. No further input is necessary, within seconds you will get the finished result - and a picture that will amaze you. There is no faster and better way!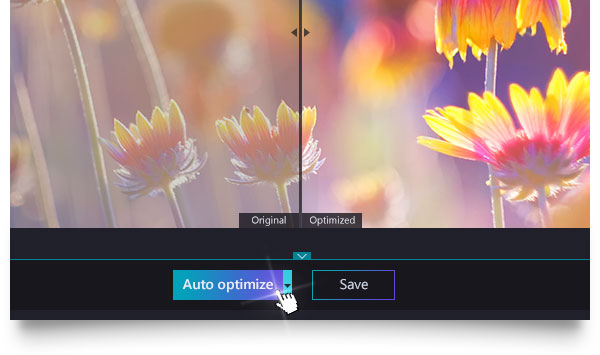 Comfortable batch processing
Save a lot of time by having a whole batch of images optimized automatically. Whether selected images from different sources or entire folders, Photo Optimizer meticulously analyzes each image and simply makes it better. Get optimal results without having to view and edit each image individually!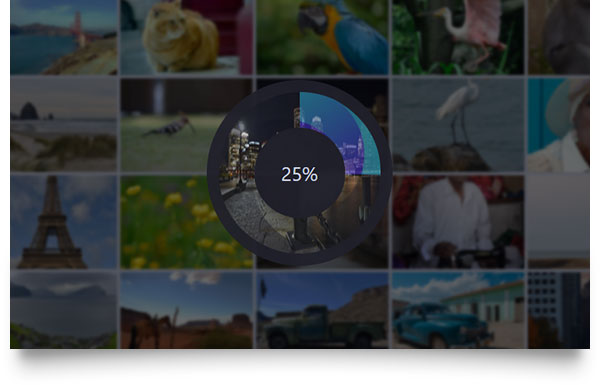 White balance and contrast spread included!
The color temperature of an image stands or falls with white balance. Especially digital cameras often tend to have a blue cast and make colours look cold. Low-contrast pictures, as they often occur in digital photography, can be intensified by spreading the contrast. Both functions are included in the automatic optimisation for the first time and are activated as soon as they can improve the photo!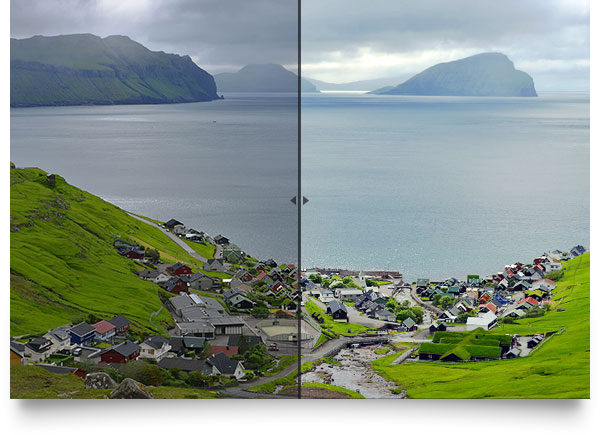 Natural looking portrait enhancements
Faces are the focus of many photos and yet rarely succeed perfectly! With Photo Optimizer you can automatically or manually remove red eyes or brighten teeth for a bright smile. With the practical stain removal and the copy function for selected areas, further defects can be removed inconspicuously. Create perfect yet natural-looking portraits in just a few clicks!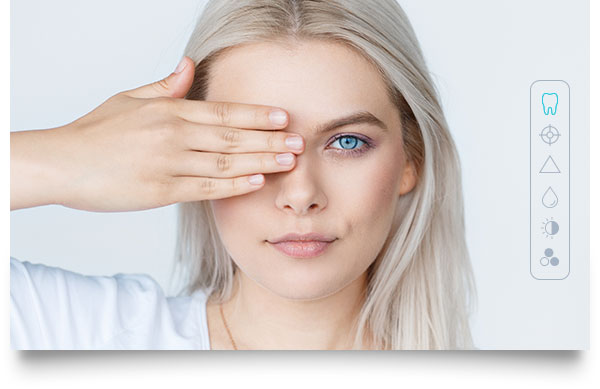 Practical export possibilities
Good pictures want to be seen, so you can of course send your pictures conveniently by e-mail or upload them to Ashampoo® Web for free and share them with others. Especially beautiful pictures can also be set as wallpaper immediately. For printing your pictures there is a sophisticated print dialog, which allows you to immortalize your pictures in best quality and, if desired, in a paper-saving way.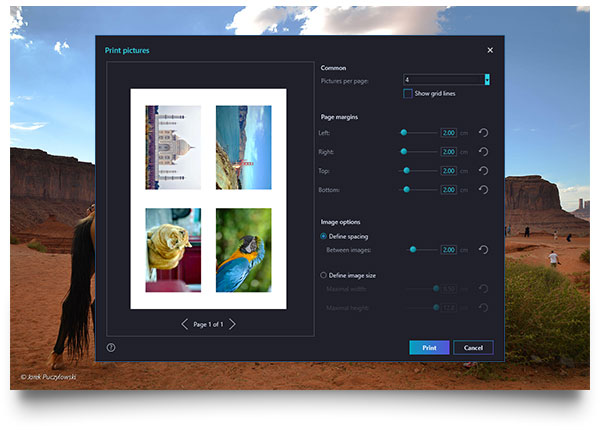 12 functions for perfectionists and creative people
12 functions are available for all those for whom automatic optimization is not enough. Whether you want to sharpen effectively or prefer to blur, Photo Optimizer offers you sophisticated functions for every area. Annoying image noise can be reduced just as effectively and for the more artistic approach there are plenty of opportunities to experiment with waves, swirls and implosion.
Bring more colour into the game!
No picture is convincing without matching colours. With highly effective color correction, you can give your images a unique style or, more classically, a realistic look. Contrast, saturation and many other values can be easily adjusted with simple sliders, and the program immediately displays the results as a preview. If you want to play with color effects, you can set individual accents by adding colors, nostalgic sepia or reduction over the threshold. And what you don't like is simply undone!
Well thought-out program structure
The user interface of Photo Optimizer 7 has been thought through to the last detail. Starting with the eye-friendly dark design, up to the logical structure, you will not need any training period. Each function is easy to find and a maximum of two clicks away. See everything at a glance with Photo Optimizer instead of clicking through annoying submenus. Everything is so logically arranged and self-explanatory that every user will quickly get the desired result!
Multimedia software in a class of its own
Ashampoo has excellent software for your pictures, videos and sounds! Ashampoo® Movie Studio Pro 3 stands for high-quality video editing with Dolby Digital sound, resolutions up to 4K and fast conversion. For sound files of any kind Ashampoo® Music Studio 7 is the ideal choice. Whether you want to cut, mix or organize files in your collection, this sound software does the work for you, quickly and reliably! If you want to create slideshows, we recommend Ashampoo® Slideshow Studio HD 4, with its numerous transitions, all important output formats and logical workflow, you too can make your memories come alive!
Even more brilliant photos, even less effort!
After the most extensive development work in the company's history, Ashampoo® Photo Optimizer 7 is now available in a completely new version! The automatic optimization is completely new and has been perfected with the help of 5,000 customers! From now on, intelligent white balance and the highly effective contrast spread are also included, making even mediocre photos brilliant! The new program interface is not only eye friendly and ergonomic, each function is a maximum of 2 clicks away. Treat yourself to a perfect program and create fantastic photos!
| | |
| --- | --- |
| edit image | |
| Greatly improved image optimization | NEW |
| Intelligent white balance | NEW |
| Automatic contrast spreading for best results | NEW |
| Optimize images automatically | IMPROVED |
| Insert watermark as text or image | |
| Cutting | |
| Rotate image freely | |
| Straighten Horizontally | |
| Flip and rotate image | |
| color correction | |
| Portrait editing | |
| whiten teeth | |
| Remove skin blemishes | |
| Copy areas | |
| Remove red eyes | |
| Effects | |
| Image overlay | |
| Embossing | |
| Distortion filters: thrust, wave, implode/explode and vortex | |
| Shadows | |
| blue shift | |
| segmentation | |
| Solarize | |
| Placarding | |
| Sketch | |
| Noise: Adding noise, Averaging, Reducing and pixelating noise | |
| Invert | |
| Grayscale | |
| Sepia | |
| Aging image | |
| Sharpness | |
| Blur | |
| Median | |
| Contour | |
| Noise reduction | |
| General | |
| Eye-protecting, ergonomic surface | NEW |
| Logical, intuitive program structure | NEW |
| Easy to use and navigate | NEW |
| Batch processing | IMPROVED |
| Time saving through more speed due to multi-core support | ● |
| Export and Presentation | |
| Easy upload to Ashampoo Webspace | |
| Set as wallpaper | |
| Send by e-mail | |
Thanks to our translators

English


German


Dutch (Guy Raedersdorf)


French (Guy Raedersdorf)


Hungarian (László Koncz)


Russian (Сергей Царёв)


Polish (Jacek Milecki)


Italian (Severino Grandi)


Norwegian (Olai Otterå)


Portuguese (Manuela Silva)


Spanish (Miguel Blasco)


Swedish (Olle Ohlsson)


Turkish (Çağdaş Tatar)


Slovenian (Jadran)


Czech (Libor Divis)


ChineseSimplified (Smilefly )


British English (Chris Brooker)


Serbian (Ilija Komljenović)


Portuguese (Brazilian) (José Carlos Taveira)


Hebrew (Eldad Ron)


ChineseTraditional (Alan)


Romanian (Andrei Grigorcea)


Catalan (Joan Queralt)


Slovakian (Milan Slovák)


Finnish (Kari Riitakangas)


Serbian (Ilija Komljenović)


Spanish (Argentina) (Angel De Giorgi)


Belarusian (Arhim2005)


Norwegian Nynorsk (Olai Otterå)
System requirements
operating system:
Windows® 10, Windows® 8 / 8.1, Windows® 7
Computer:
Any computer that supports the operating systems listed above.
Miscellaneous:
Microsoft Visual C++ 2015 x86 Redistributable
An Internet connection is required to activate the program. The program license is checked at regular intervals.
Comment et quand puis-je obtenir mon produit acheté?
Les produits numériques, les clés de produit et l'accès au centre de téléchargement seront mis à votre disposition par e-mail immédiatement après votre achat - sauf si un support de données a été commandé.
Quelles options de paiement sont disponibles pour moi?
PayPal, Amazon Pay, virement bancaire instantané, carte de crédit, Apple Pay, prépaiement, achat sur facture
Quelles garanties ai-je chez Blitzhandel24?
Blitzhandel24 est une boutique de marque en ligne certifiée EHI, TrustedShops et CHIP. Blitzhandel24 offre également à ses clients un support permanent, ainsi qu'un support pour le produit acheté. Si un produit n'a pas été utilisé / échangé, nos clients peuvent bénéficier de la garantie de remboursement.
Autres liens vers "Ashampoo Photo Optimizer 7"
Comment nos prix se produisent-ils?
plus
Comment nos prix se produisent-ils?
Le principe de base du trading de logiciels est l'art de l'omission.
En regroupant les quantités
Éliminez les frais de livraison et de stockage grâce à la gestion virtuelle des stocks.
les importations directes
Relation à long terme avec les distributeurs.
Faible marge bénéficiaire, la principale priorité de Blitzhandel24 est la valorisation et la croissance de la clientèle.
Une administration centrale et allégée.
Achats en vrac auprès de fournisseurs / distributeurs autorisés.
Élimination des investissements marketing à prix élevé, car plus de valeur est accordée aux clients réguliers dans le sens de «les clients recommandent les clients»
nous réalisons des avantages de coûts que nous répercutons sur nos clients grâce à des prix bas.
Est-ce que cela aggrave la qualité?
Nous promettons à nos clients une excellente qualité. Les prix n'affectent en rien la qualité, nos clients reçoivent des produits testés et vérifiés. De plus, avec Blitzhandel24, vous bénéficiez d'une protection allant jusqu'à 20 000 € via Trusted Shops et une boutique légalement sécurisée avec les sceaux d'approbation EHI.