Préférences en matière de cookies
Ce site web utilise des cookies, qui sont nécessaires pour le fonctionnement technique du site web et qui sont toujours paramétrés. Les autres cookies, qui sont destinés à accroître le confort d'utilisation de ce site web, à des fins de marketing direct ou pour faciliter l'interaction avec d'autres sites web et réseaux sociaux, ne sont définis qu'avec votre consentement.
Ces cookies sont nécessaires aux fonctions de base de la boutique.
Autoriser tous les cookies
Mise en cache spécifique au client
Préférences en matière de cookies
Ces cookies sont utilisés pour rendre l'expérience d'achat encore plus attrayante, par exemple pour la reconnaissance du visiteur.
Appareil de suivi utilisé
Ashampoo UnInstaller 9 Download
20,95 € *
39,99 € *
(47,61% sauvegardé)
inkl. MwSt. plus frais d'expédition
Numéro d'article :

241820947

N ° de fabricant:

4250949206148

Durée:

Durée de vie

Langue(s):

Toutes les langues

Zones Pays:

À l'échelle mondiale
Support de données vers votre logiciel
Always risk-free through complete deinstallation! With Ashampoo UnInstaller 9 you can...
plus
Informations sur les produits "Ashampoo UnInstaller 9 Download"

Always risk-free through complete deinstallation!
With Ashampoo UnInstaller 9 you can install, test and uninstall programs without worries. At the same time you always have full control over what can remain on your computer! The program comprehensively monitors every installation so that it can be removed easily and without leaving any residues. Even programs without logging are removed by the deep cleaning without residues! UnInstaller 9 sweeps unwanted software, browser extensions and toolbars completely off your hard drive with a single mouse click! And thanks to the innovative snapshot technology you can see every change that has taken place on your computer - lightning fast and clearly arranged.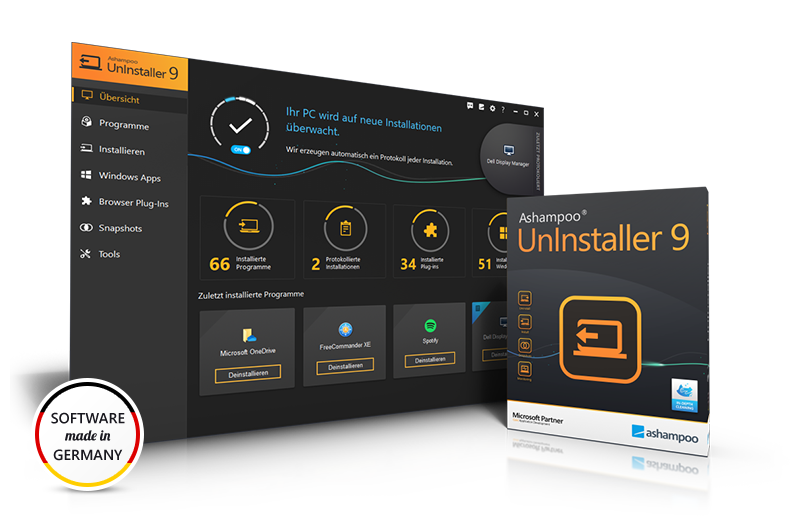 Uninstall programs without leaving any residues
Windows only deletes what the installed programs themselves release for deletion - and that is not enough! Often numerous entries in the registry, wrong allocations or file remnants remain on your system. The remnants often cause errors, clutter the hard disk and slow down the whole PC. Through sophisticated search and cleaning mechanisms, the program finds much more than Windows alone could. Ashampoo UnInstaller 9 completely removes unwanted software down to the last byte!
Uninstall software like a pro!
Even as a newbie you will have no problem getting started with Ashampoo UnInstaller 9. With its newly designed user interface all functions are just a mouse click away and even technically complex processes are self-explanatory. Uninstall any program comfortably and without leaving anything behind. Let the automatic installations detect and log them. Gain interesting insights into what happens on your computer and conveniently remove what does not belong on your computer. An UnInstaller for beginners and professionals alike!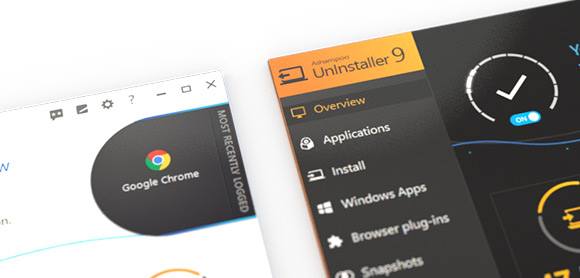 Merciless against unwanted programs
Ashampoo UnInstaller 9 removes programs that have become superfluous, do not meet the requirements - but of course also unwanted software that has been hidden from you! Especially installers from download sites often piggyback programs that are not wanted and are partly classified as spyware and malware. Ashampoo UnInstaller 9 detects these programs even if they are hidden in complicated installers and sweeps them off your hard drive if desired!
Comparing snapshots- what's the point?
Imagine Ashampoo UnInstaller 9 would be an administrator for your PC. With each snapshot the program creates a complete inventory of your system. This list includes all data and also registry settings of Windows. If files are added (e.g. by an installation) you can create another inventory list. During the comparison all differences are found, every new or deleted file, every changed registry entry. In UnInstaller 9 you will now find a brand new snapshot wizard, which makes creating and comparing very easy!

Four deletion methods for complete uninstallation
Ashampoo UnInstaller 9 uses four techniques at once to ensure that no unwanted byte remains on your system. The most comprehensive is the protocol that UnInstaller 9 creates when installing each program. It lists all files and registry values that an installation causes. In addition, the program uses the uninstall routine of the software to be deleted. If there is a profile for the software, this is also processed. Finally, the deep cleaning searches for last remnants that might still be found on the hard disk! With the new version, even after a restart, it will check for the very last remains!
Remove with deep cleaning software
Ashampoo UnInstaller 9 seamlessly logs the installation of each program and thus guarantees an uninstallation without any residues. Even programs that are otherwise hidden from you are safely logged. But even for programs that are not logged, an intelligent deletion algorithm ensures effective deinstallation. With the deep cleaning, unnecessary entries and files of the deleted software, which would otherwise remain on your system, are removed from the hard disk
Your Guard, which monitors all installations
Ashampoo UnInstaller 9's Guard always keeps an eye on your system and hardly uses any measurable resources. Even if you remove a program via the normal Windows uninstaller, it will automatically search for other file remains on the system. Often even the beginning and the end of an installation is detected automatically, so that you don't have to intervene yourself! With the new version, we have made the Guard even tougher. Whatever your system does, Guard has everything in view!

Destruction of sensitive data
Many files that are deleted during an uninstall contain sensitive data. It is also your user profiles, payment methods or passwords that should be deleted. But Windows alone can only do this insufficiently! In order to protect your privacy as much as possible, these files are shredded during deletion, so that they cannot be viewed even with special software. The best: Ashampoo UnInstaller 9 works according to military security standards!

With profiles also without protocol Delete programs cleanly
Until now, it was difficult to uninstall without a logged installation. Where were files and registry keys distributed on the system during installation? Ashampoo UnInstaller 9 has installation profiles of many popular applications and can remove them without leaving a trace even if the installation was not logged. Even particularly stubborn setups don't stand a chance. Together with the innovative deep cleaning, installations disappear down to the last byte!

Surf the Internet quickly and securely
Insecure, unwanted and malicious plugins run in millions of browsers. Whether disguised as an annoying toolbar or a seemingly helpful plugin - Ashampoo UnInstaller 9 finds them all! Detect extensions that are often not even displayed by your browsers. Cleanly listed you will find all extensions, see their ratings and can easily uninstall them.
Uninstalling Windows Apps
It is your computer, why don't you regain full control of it? With every Windows installation Microsoft distributes various apps and sets them as default. From now on you can also uninstall these unwanted apps. Even apps that Windows doesn't show at all can be removed from your computer without any problems!
Together they are invincible
With Ashampoo UnInstaller 9 you have perfect control over all installations of your system. But who optimizes the performance of your computer or prevents intruders from the Internet? Together with Ashampoo WinOptimizer 17 and Ashampoo Anti-Virus you have the optimal team at your side! Let your system accelerate, dispose of data garbage and surf the internet without worries. Use the powerful trio for a slim, fast and secure computer!
System requirements:
operating system:
Windows® 10, Windows® 8, Windows® 7
computer:
Any computer that supports the operating systems listed above.
Other:
An Internet connection is required to activate the program. The program license is checked at regular intervals.
You need administrative rights on the system to use the program.
Further languages for download
Download additional or corrected languages that are not currently part of the program installation.

Note: In the installation folder of the respective program, find the folder "lang" or "Translation" and save the desired language file there. If necessary, restart the program to be able to select the new language in the settings.

Thank you very much to all who support us with their translations!
| | | | |
| --- | --- | --- | --- |
| Language | Translators | Added | Download |
| Norwegian | Bjørn N. Colargol | 05.11.2019 | Download |
| Bulgarian | Chavdar Bozadzhiev | 23.12.2019 | Download |
Thanks to our translators
English
German
Dutch (Guy Raedersdorf)
French (Guy Raedersdorf)
Hungarian (László Koncz)
Russian (Сергей Царёв)
Polish (Artur Krupa)
Italian (Severino Grandi)
Portuguese (Manuela Silva)
Spanish (Miguel Blasco)
Swedish (Olle Ohlsson)
Turkish (Çağdaş Tatar)
Slovenian (Jadran)
Czech (Libor Divis)
ChineseSimplified (Smilefly )
British English (Chris Brooker)
Serbian (Ilija Komljenović)
Portuguese (Brazilian) (Josè Carlos Taveira)
ChineseTraditional (Alan)
Greek (Aldi Duzha)
Catalan (Joan Queralt)
Slovakian (Milan Slovák)
Finnish (Veikko Muurikainen)
Serbian (Ilija Komljenović)
Spanish (Argentina) (Angel De Giorgi)
Norwegian Nynorsk (Olai Otterå)

You cannot find an Ashampoo product in your language?

You would prefer to work with an Ashampoo product in your language?

Then use Ashampoo® Translation Studio to create and use your own language file.

Have you enjoyed translating and would like to make your work available to your fellow countrymen? Then send your language file by e-mail to [email protected] After a short check, your translation will be integrated into the corresponding setup of the program and thus offered for download worldwide.




Ashampoo® Translation Studio installation setup

The setup includes the language editor and instructions on how to quickly and easily translate an Ashampoo product into your language.
http://www.ashampoo.com/ashampoo_translation_studio.exe
Comment et quand puis-je obtenir mon produit acheté?
Les produits numériques, les clés de produit et l'accès au centre de téléchargement seront mis à votre disposition par e-mail immédiatement après votre achat - sauf si un support de données a été commandé.
Quelles options de paiement sont disponibles pour moi?
PayPal, Amazon Pay, virement bancaire instantané, carte de crédit, Apple Pay, prépaiement, achat sur facture
Quelles garanties ai-je chez Blitzhandel24?
Blitzhandel24 est une boutique de marque en ligne certifiée EHI, TrustedShops et CHIP. Blitzhandel24 offre également à ses clients un support permanent, ainsi qu'un support pour le produit acheté. Si un produit n'a pas été utilisé / échangé, nos clients peuvent bénéficier de la garantie de remboursement.
Autres liens vers "Ashampoo UnInstaller 9 Download"
Comment nos prix se produisent-ils?
plus
Comment nos prix se produisent-ils?
Le principe de base du trading de logiciels est l'art de l'omission.
En regroupant les quantités
Éliminez les frais de livraison et de stockage grâce à la gestion virtuelle des stocks.
les importations directes
Relation à long terme avec les distributeurs.
Faible marge bénéficiaire, la principale priorité de Blitzhandel24 est la valorisation et la croissance de la clientèle.
Une administration centrale et allégée.
Achats en vrac auprès de fournisseurs / distributeurs autorisés.
Élimination des investissements marketing à prix élevé, car plus de valeur est accordée aux clients réguliers dans le sens de «les clients recommandent les clients»
nous réalisons des avantages de coûts que nous répercutons sur nos clients grâce à des prix bas.
Est-ce que cela aggrave la qualité?
Nous promettons à nos clients une excellente qualité. Les prix n'affectent en rien la qualité, nos clients reçoivent des produits testés et vérifiés. De plus, avec Blitzhandel24, vous bénéficiez d'une protection allant jusqu'à 20 000 € via Trusted Shops et une boutique légalement sécurisée avec les sceaux d'approbation EHI.